gewog img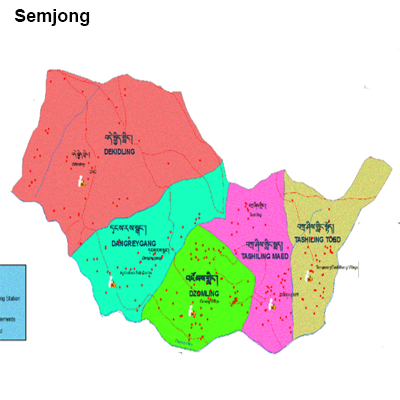 Semjong Gewog has an area of 14.5 sq.km with elevation ranging from 900-1600 meters above sea level. Located at eastern side 20km away from the Dzongkhag Headquater, The gewog consist of five main villages namely Tashiling Teod, Tashiling mead, Dzomling, Drangreygang and dekidling and it is connected with 7.5 km GC road, 15 km of Farm road which has improved access to market and basic facilities .
Agriculture land use is dominated by dry land followed by wet land cultivation. The maize and paddy is widely cultivated as main staple diet. They also cultivate wide varieties of vegetables and sell in the market. The sale of cash crops such as orange and cardamom constitute main source of income for the farmers. Though gewogs is located on the slope of the mountain but the land is fecund and anything people cultivate yields well.

Livestock rearing is also important in terms of supplementing cash income of the farmers from the sale of surplus products. Health services are now availed from the newly established BHU within the Gewog. All the households are connected to safe drinking water pipes and electricity in tenth five year plan.