gewog img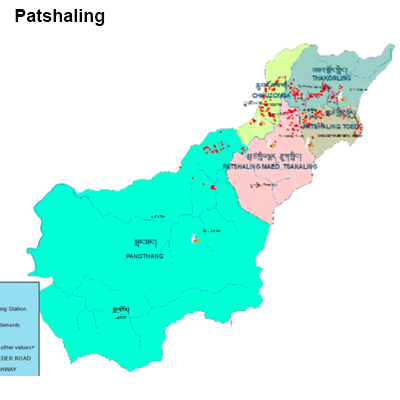 Patshaling Gewog is situated in the western part of the Dzongkhag about 10 Kilometres from the Dzongkhag headquarters. It is the largest Gewog in the Dzongkhag with an area of 170.9 sq. Km and has 277 gungs and 78 nil gungs distributed among five chiwogs viz, Patshaling toed, Patshaling maed,Thakorling,chhuzomsa and Pangthang with an population of 1249 male and 1256 female with an grand total of 2505. The Gewog has an evaluation ranging from 600 to 1,900 meters above sea level.

Education is provided by a primary school and a non- formal Education (NFE) centers while health services are availed from the Basic Health Unit (BHU), the outrich clinic (ORC) at Mendrelgang and from the Damphu Hospital in Kilkhorthang Gewog.85% of the households are connected with clean water supply facility. The Wangdue-Sarpang highway touches the east-western part of the Gewog providing access to some villages and other villages by farm roads.

Agriculture land use is dominated by dry land in the upper region of the Gewog where mostly Maize, wheat,mustered are grown. The lower part of Gewog has more wet land with paddy and wheat being grown as major crops. Cardamom,vegetables is the principal cash crop grown in the Gewog.
Almost every household in the gewog own livestock, poultry and bee keeping. Although local cattle dominate the livestock population.