gewog img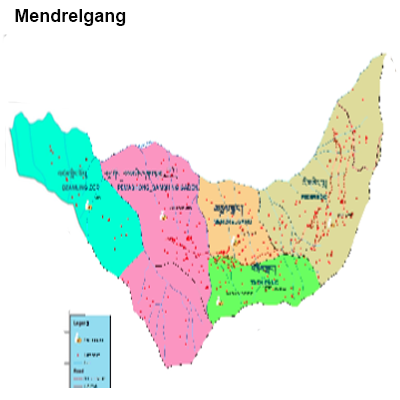 Mendrelgang is one of the fast developing Gewog in Tsirang Dzongkhag.  It has an area of an approximately 15.5 square km and it is situated 18 km away to the south east of the Dzongkhag Headquarter, Damphu. It has an elevation ranging from 700 meters-1400 meters above the sea-level. The climate is moderate  and has sandy loamy black soil which is favorable for cultivation of different varieties of food crops and vegetable as well as all kinds of fruits.
The Gewog has 5 chiwogs and the total population is around 2900with 376 households. Economically, the people of the Mendrelgang Gewog are doing well and their live mostly depends on agriculture and livestock farming. They also grow oranges, cardamom and various fruits as their main cash crop. Besides the cash crops, they also grow vegetables and make a living by selling them in other Dzongkhag. 
Infra-structurally, Gewog has two (one primary and one middle secondary) schools, Gewog office, RNR Centre, BHU, ORC, 2 Non Formal Education Centre and a Lhakhang established at different places.The people take advantage of these facilities by availing the required services from them.

The community centre is also newly established in the Gewog to provide online and offline facilities to the people.
With regard to transport and communication, Gewog has bus service between Mendrelgang to Thimphu and local taxis. For the purpose of easy transporting the farm products produced by the farmers, Gewog has constructed 4 Numbers of farm roads measuring about 11 KMs. Gewog is also connected with B.Mobile services in the year 2008 and with Tashi Cell services in 2010. All the chiwogs in Mendrelgang Gewog has been electrified and people enjoy happily with power services.