Announcement on Open Quiz in commemoration of 115 National Day
************************************************************************************
Quiz Date: 15/12/2022
Time: 3 P.M-5 P.M
Eligibility of participants: people residing in Tsirang only
Result Declared in Facebook and website on 16th December 2022
Declaration of Prize for Winner of Fastest Finger First on 17/12/2022 in Football Ground, Damphu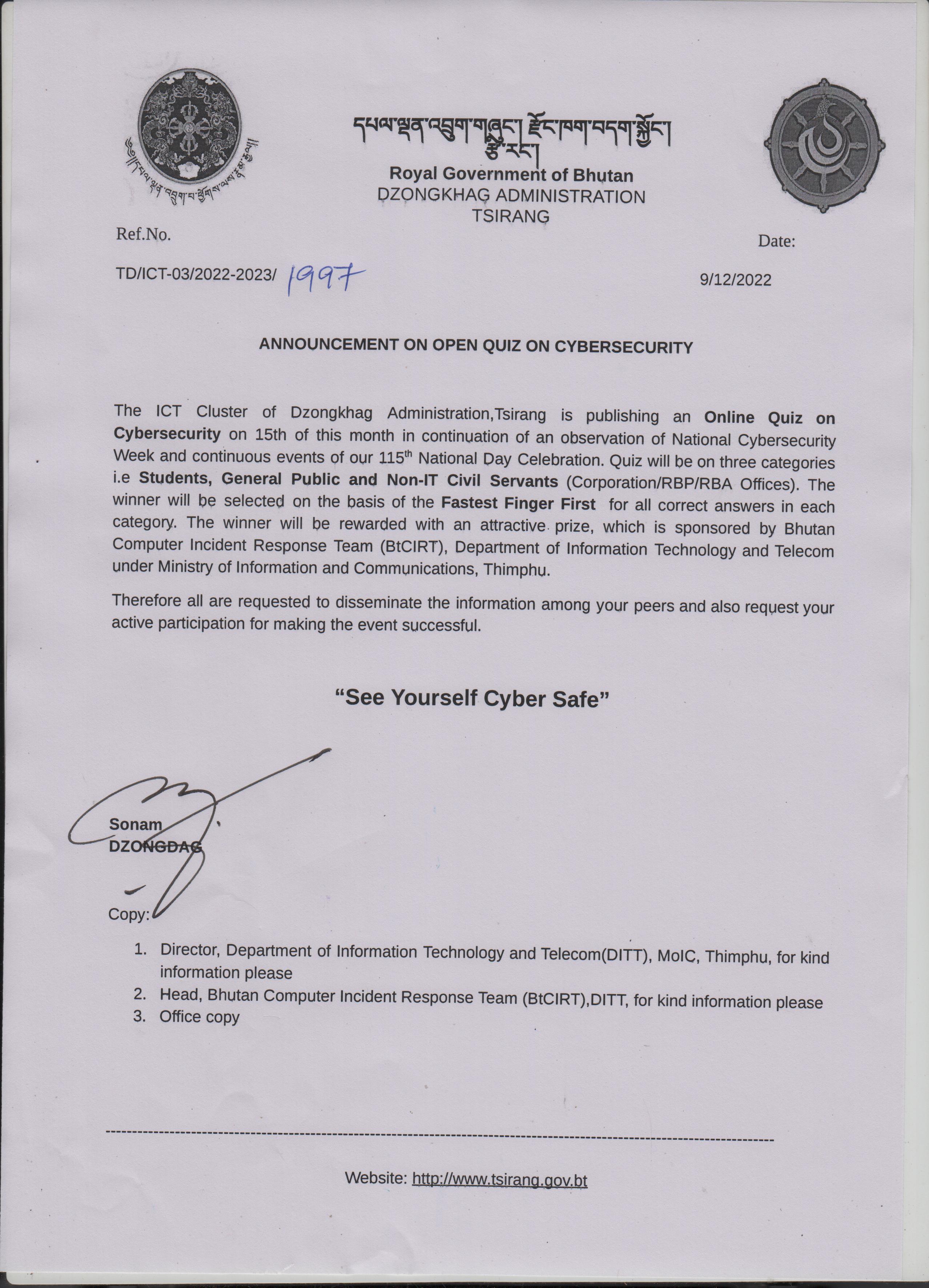 TERMS AND CONDITION OF ONLINE CYBERSECURITY QUIZ ..
-------------------------------------------------------------------------------
Cybersecurity Knowledge Test (the "Quiz") is designed to test the knowledge of the participants .
ORGANISER: The Quiz is organized by ICT Cluster Office,Tsirang Dzongkhag, in association with Bhutan Computer Incident Response Team (BtCIRT).
ELIGIBILITY FOR PARTICIPATING IN THIS QUIZ: The Quiz is open to people (the Participants) anywhere in Tsirang Dzongkhag.
PARTICIPANTS MUST SELECT THEIR CATEGORY:
Participant must select in which category your are falling Student, Non-IT Civil Servants or General Public

QUIZ COMPETITION: The Quiz will consist of 10 questions for the participants to answer.
SELECTION OF WINNERS: In order to be eligible for the rewards, a participant must register for the Quiz and complete the Quiz within allotted time. The winners will be chosen among these participants based on whoever answers the highest number of questions correct in the shortest span of time.
PRIZE DETAILS: Prize details for each quiz will be announced separately
CONDITIONS FOR THE DISTRIBUTION OF PRIZES TO WINNERS There is no cash alternative and the prizes must be taken as offered.