01 October 2019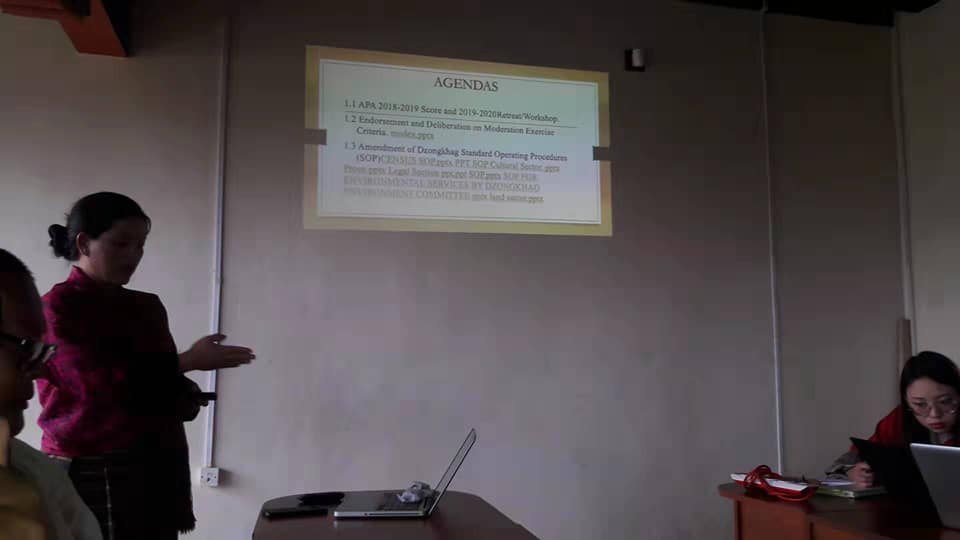 1st Sector Coordination meeting was held on 1/10/2019 in the conference hall. It was coordinated by Planning Officer. It is one of the inevitable platform of the Dzongkhag Administration, where it brings all the sector heads together. In this meeting Sector heads discussed and bring the issue faced by their staffs and required intervention from the management to put the solution.
Sector Coordination Meeting deliberated on APA achievement of 2017-2018 and APA 2019-2020 way forward.
Objectively discussed on Moderation Exercise and rating of employee to put them on category of outstanding(OS), very good(VG), good(G) and need improvement(NI).. Moderation Exercise critriria will also be discussed with the staffs before implementing.
One outcome of the meeting was designed of checklist for the screening of Bhutanese film in the Dzongkhag and procedure as laid in Rules Governing Places of Entertainment 2014 by BICMA.
The participants deliberated on retreat/workshop to produce comprehensive Dzongkhah standard operating procedure(SOP) and to strategizing of APA score. Before finalizing it discussed on advantage and benefit of Retreat in another place.