gewog img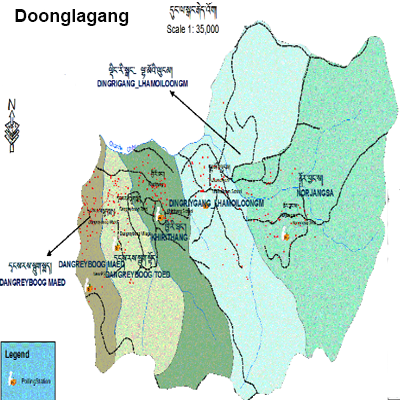 Doonglagang Gewog is one of the twelve gewog which falls under Tsirang Dzongkhag; it is bordered by Kilkhorthang Gewog in the west, Sarpang Dzongkhag in the east, Shemjong gewog in the south and Patshaling gewog in the north. Doonglagang gewog is one of the least developed gewog in the Dzongkhag with the completion of gewog centre road and coming up of electrification the living standard of public has change. The Gewog has one community school and it has one Basic Health Unit (BHU) and one outreach clinic (ORC).  The Gewog has agriculture, forestry and one livestock extension center which provide the RNR extension services in the gewog. The people of the gewog mainly grow maize, wheat and rice. The gewog has two suspension bridges which connect the Gewog to the other gewogs.
The gewog covers an area of approximately 45.9 sq kms of which 207.86 acres of land is covered by chuzhing, 617.55 acres of Kamzhing, and 74.22 acres of Tseri and rest cover by forest. The gewog has altitudes ranging from 900 to 1500 meters above sea level. High ridges; steep slopes, deep gorges and lowland in some areas characterize the topography. It has warm summer and cold winter. Annual average rainfall ranges from 850 to 980 mm.
                        The Gewog has 365 households, with total population of 3180 out of which 1649 are males and 1531are females. Gewog office is located at Khorsaney under Kherithang chiwog which fall in the centre. Gewog has a total of five Chiwogs. Gup as an elected chairperson looks after all the development activities and Gewog Tshogde is the highest decision making body in the gewog.
 Doonglagang Gewog is connected with farm road, to reach Gewog center from Dzongkhag one have to travel 10 kms of farm road and 4 kms of paved road towards chachay, the gewog has total length of 22 kms covering four chiwog, farm road towards Norjangsa chiwog has been completed in 2014 from GDG funding with Total length 3.4 kms . 3 kms farm road that is constructed recently connects upper Khorsaney, which is finance by the people of 28 households contributing around Nu: 7200 per household, 2.8 kms stretch of farm road which is constructed by farmer group connects upper Dangreybu Toed.

 The Gewog consists of resettlement from the east, mostly from Womrong under TrashiGang Dzongkhag and few from the other parts of the Dzongkhag. They were included in 2nd and 9th phase of resettlement program.
The Gewog has mixture of different religions, the re-settlers follows Buddhism as their religion, the Lhotshampas follows Manav Dharma, which is branch of Hinduism and there are also few who follow Christianity. The Gewog has one Lhakhang and a hindu temple.
 The people in the Gewog mostly depends on agriculture and livestock product, though the Gewog does not have vegetables shed, Farmers travel at Damphu vegetable market to sell their product on every Sunday of the week